MagicBit; SriLanka's first successful Kickstarter project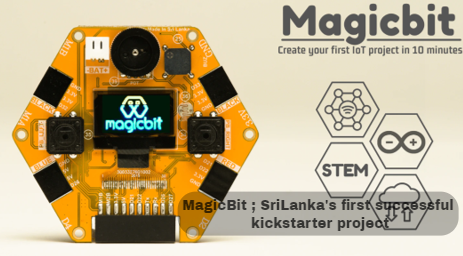 In 2019, A trio of electronic engineers – Migara Amithodana, Anuruddha Tennakoon, and Akalanka De Silva-initiated a platform that would bring an advanced concept such as IoT to students amateur developers. Their innovative product, Magicbit, results from 2 years of continuous prototyping to create a robust product that can be used to build an IoT system in no more than 10 minutes.
MagicBit is now the first successful SriLankan Kickstarte project. In just four short hours, it exceeded its funding goals. But their success didn't stop there. As excited backers continued to fund the project, MagicBit has now raised over $27,000.
Kickstarter is a US-based crowdfunding program that funds creative projects with capital gathered from the public. The program began in 2012 with 469,286 projects registered on the site to date. Selected projects are backed by donors worldwide – mainly from the US, UK, Canada, Australia, and New Zealand.
Magicbit was listed on the crowdfunding platform in June 2021 with a minimum funding requirement of $5000. The IoT platform stood out from the rest of the projects and exceeded its initial funding goal by a mere 4 hours of its appearance on the platform. As of now, Project Magicbit has raised over $27,000.
The team plans to use the collected funds to start mass-scale manufacture of the platform for worldwide shipping by October 2021. But MagicBit isn't stopping here. The team has announced a stretch goal target of raising $40,000, after which they'll be looking at introducing a robotics course and an enclosure for the unit.
Magicbit is also the proud recipient of numerous awards in recognition of its contribution to education and community development. It has support from multiple private and government entities in Sri Lanka, including the Spiralation programme by the ICTA.
Cited by Arteculate