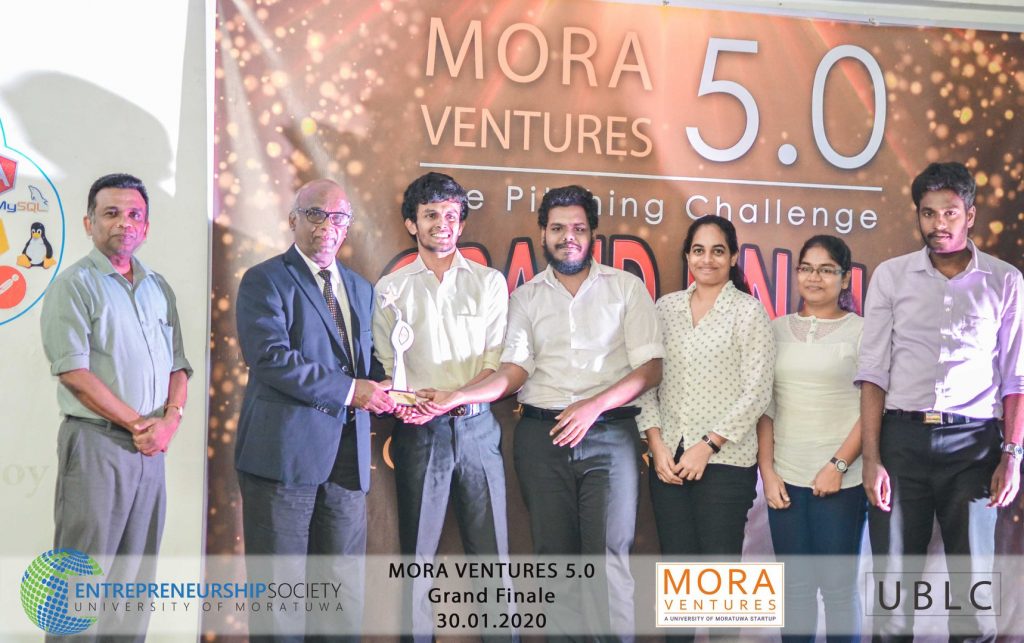 The Grand Finale
Mora Ventures is aimed at all budding entrepreneurs completing their higher education at Sri Lankan Universities.The Grand Finale of Mora Ventures 5.0, the biggest university level startup pitching challenge was held on 30th January 2020 at University of Moratuwa. The event was organized by the Entrepreneurship Society of University of Moratuwa together with the University Business Linkage Cell (UBLC).
Team Wanderers, who developed a device which monitors the potassium level in the blood by non-invasive method real time as their product emerged as the Champions while, Team AgXspot, a startup seeking revival in agriculture by making drones and related innovative solutions accessible to anyone, and Team CUCA, a thin mat that reduces the risks of bedsores becoming medically critical via detecting the posture of an individual and alerting the caregiver regarding his/ her prolonged posture,secured second and third places respectively.
Three hundred thousand rupees awarded for the champions as the first cash price, second and third places rewarded with one hundred and fifty thousand rupee cash price and seventy-five thousand cash price respectively. The winners were entitled to co-working spaces, startup mentoring, and IP rights support from the UBLC of University of Moratuwa. Prof. P. K. S. Mahanama, Deputy Vice Chancellor of University of Moratuwa, graced the occasion as the Chief Guest. Mentors, Judges and Workshop Speakers of Mora Ventures 5.0 were presented with tokens of appreciation at the event.
Journey to the Finale
Mora Ventures 5.0 was started in October 2019 and over 60 teams were applied over two weeks. The shortlisted teams were facilitated for a workshop series on topics including Design Thinking, Startup Financing, Business Modelling, Marketing and Startup Pitching. The sessions were conducted by HemindaJayaweera-COO at SLINTEC, SuwinAmarabandu-Entrepreneur Innovator at PwC, KeerthiKodithuwakku-CEO at Jendo Innovations Pvt Ltd, Talal Rafi-Board Director at Venture Green Global and Rajitha Peiris-Senior Business Analyst at Mitra Innovation respectively.
Thereafter, three days of mini pitches were heldand total of 10 teams were selected. Selected 8 finalists and 2 reserve teams were assigned with mentors to obtain a month of one-to-one mentoring for improving their business models, pitching, idea validation and implementation. The finalists pitched on 30th January 2020 in front of a panel of judges comprising Heminda Jayaweera, KeerthiKodithuwakku, VinodSamarawickrama and DhanikaPerera. -Written by Entrepreneurship Society, University of Moratuwa